I am on a roll!
For the fourth month in a row, I have succeeded in pulling some older stash fabric and turning it into a quilt by the end of the month.
At the beginning of April, I started with this stack of fabric. Many of these have been in my stash for maybe a decade.
I decided to revisit a quilt I have made many times in the past. It is made up of just two blocks. A square that finishes at 6" and a rectangle that finishes at 6 x 12". They sew up super fast!
In no time at all, I had a finished quilt!
I have pulled many of these fabrics countless times over the years and always struggled with color choices. I am not sure I like the green or the browns I used but I needed something to break up all that red.
But the quilt is finished and there is no changing my mind now. Not only is that old fabric not taking up space on the shelf but I was also able to use a piece for the backing that I thought I would have to store forever.
The quilt is actually a nice rich red. Once I saw the photos should probably be retaken, the sun was going down and my camera battery was dead. Ugh!
There is still some big chunks of some of the fabrics still left. I might try and take another stab at the colors....or maybe I will just work them into future scrap quilts! :)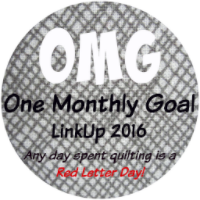 I am just happy I accomplished my
One Month Goal
for the month of April. A big thanks to Heidi over at
Red Letter Quilts
for hosting the OMG event every month.
Linking Up:
Crazy Mom Quilts (Finish it up Friday)
Red Letter Quilts
***This post contains affiliate links. If you click through and make a purchase, at no additional cost to you, I may make a small commission, which I appreciate so much!***