With Thanksgiving in a few days, it is time to start thinking about making some gifts for giving. I am going to be mailing off all of my holiday gifts this year so that means I need to get going on them.
The holiday season also means there are some great deals going on should you want to buy yourself or your quilty friends some gifts. Here are a few deals from my affiliates.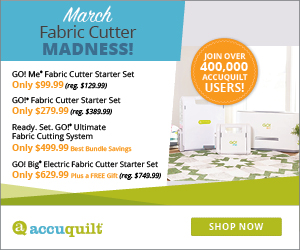 Now is a great time to purchase an AccuQuilt cutting system if it is on your want list.
The black Friday deals are already available now.
A fairly new affiliate partner for me is Annie's. They curate and sell all sorts of craft and sewing subscriptions. They also have a Holiday Quilter's Club that supplies everything you need for a festive monthly project.
They also have Fiction Clubs. And this year they have two Mystery Stitch Alongs.
READ IT. STITCH IT. SOLVE THE MYSTERY!
How fun does that sound!
And I get to share a fantastic special 75% OFF coupon for all of Annie's clubs! Just use the coupon code SHARE75.
If you are in the US, I wish you and your family a wonderful Thanksgiving.
Please be safe and stay healthy!
This post contains affiliate links. I appreciate the support!