One of the projects I was really hoping to finish during my hiatus from customer quilting was my courthouse steps quilt using Boundless solids. Due to my sewing up a block incorrectly, I have had a tough time wanting to get back to it.
Today, I finally got over my pouting, dug out my seam ripper and disassembled the block. Now I am ready to sew it back together in the correct configuration. I also cut all the pieces for a few more blocks so I am definitely ready to get back to this one. I really love having my design boards for laying out these intricate blocks.
(Of course, that means you need to lay them out correctly in the first place!)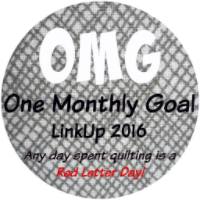 I thought I would make finishing this quilt my
August OMG finish along goal
with Red Letter Quilts. Maybe this will give me the incentive to get this one moved to the "Done" pile!
Linking Up:
***This post contains affiliate links. If you click through and make a purchase, at no additional cost to you, I may make a small commission, which I appreciate so much!**