I decided to start something new!
A few months back, I was going to make a quilt using green/brown staggered 16 patch block. Well, the design changed and the idea was scrapped.

A few of you requested that I didn't give up on the idea...
So I am ready to give it another chance.
My gray color bin was stuffed to the gills, so I pulled out my AccuQuilt
2.5" multiple square die
and started stacking on the scraps.
In no time at all, I had just under 500 squares ready for assembly. I think I will need closer to 600 squares for the quilt but I will start here to see what shades I need for the last few blocks.
Sorry my squares are so shaggy - I didn't take the time to clean them up a bit for the photo.
I also really need to break out another plastic cover...as you can see, I use this die A LOT! Cuts would be a lot more crisper with a less worn plastic.
For those of you who already use this cutter, I have added lines on my dies with a white gel pen along the sides showing me the locations of the blades. This really helps as you stack up fabric.
Now that I have lots of squares cut, I can start sewing them into the 16 patches. I will be laying out the squares next to my sewing machine - making sure I have lights and darks, solids and prints.
Time to start sewing!
For those of you who are curious about my fabric cutter, I have the
AccuQuilt Studio 2
. I love that it cuts up to 10 layers at a time. Since I bought it, the pain in my hands has lessened greatly. I find I mostly use the standard dies and rarely find the need for anything fancy.
It sure makes cutting up scraps quick and easy!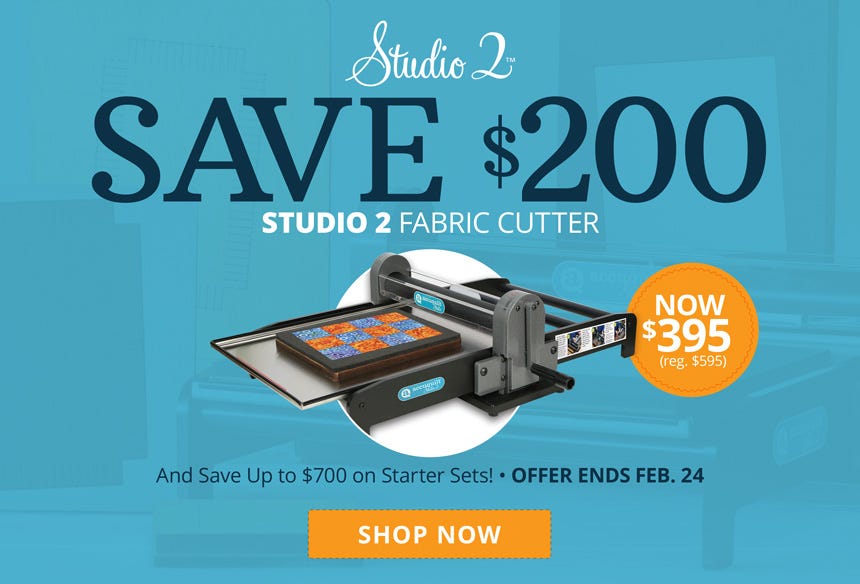 I was happy to see when I went out to the AccuQuilt website that they are currently running a sale on
the very machine I have.
If you use the code STUDIOBOGO, you can buy a Studio die and get a second one of equal or lesser value free.
***This post contains affiliate links. If you click through and make a purchase, I may make a small commission, which I appreciate so much!***