Quite a few of you have asked me if I will be doing more block drives for the Compassion Quilts I am currently working on.
The answer is YES!
My plan is to do four block drives a year. They will be announced in March, June, September and December. Each March will be the month that we will be making quilts for our veterans. And once a year we will focus on blocks for kids - I am thinking that will be in September.
The current block drive is these cute blue/brown rail fence blocks made from 1.5" wide strips. I know there are still some blocks on their way but to date, I have received over 1200 blocks, lots of yardage (to use as backings, bindings and backgrounds) and 5 finished quilts! Amazing!!
(If you want to learn more, you can read this older post.)
I hope to have the majority of these blocks by the end of January. That will give me the month of February to finish up these quilts and to rest a bit before the next block comes along. I also need time to prepare and rustle up backings, batting and backgrounds for the new block drive.
I so appreciate all the support I have received - it can be a bit overwhelming at times but it will be so rewarding when I get to deliver our (yes, OUR!) quilts. I couldn't do it without you.
I think right now I have a stack of over 20!
For those of you who would like to help but don't have the scraps or the funds for the shipping, you can still help! I decided to use all the affiliate commissions I make on my blog to buy backings, backgrounds and battings. So if you make any future purchases through any of the below companies, click through my site (buttons on the left) just before you make the purchase and I will make a commission.
Fat Quarter Shop
Connecting Threads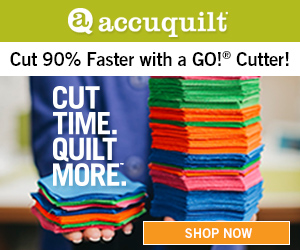 AccuQuilt
I have also been working on the structure of my (soon to be) newsletter. If you want to get signed up for it so you get the first one, you can fill in the form below.
Thanks so much!