I was recently contacted by CT Publishing with the offer of a free electronic copy of Amanda Jean Nyberg's
No Scrap Left Behind book
in return for a review of the book. They noted my blog was all about scraps - imagine that!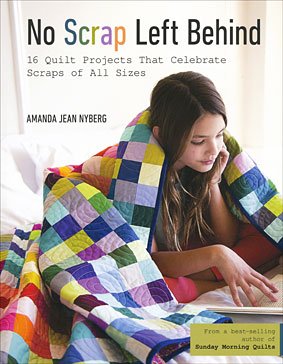 I quickly took them up on their offer as this book has been on my wishlist since it was released.
I was really pleased with how the book is organized. It walks you through all the steps of using your scraps to create beautiful quilts - from scrap management to color selections.
I also like that the quilt designs are organized by scrap shape - squares, triangles, strings and snippets. Once you identify what type of scraps you have, you can take a look at the best quilt designs to the most out of your scraps.
Once I read through the book, I decided to start the Donuts quilt. This design is in the string section and I have wanted to make this quilt for a really long time. I am going to make my quilt a bit smaller - going with only 13 circles which will make a 66" square quilt. While my pinks scraps were out, I put together enough of the components to make two of the "donuts".
Each "donut" is 16" square. I haven't decided on a background fabric yet. I will do that after I have the 13 blocks completed. I am not sure if this will become an RSC project or if I will just sew up blocks as I come across scraps. It shouldn't take much time to complete at all!
I am sure this will not be the only quilt I make using this book. It is filled with so many great ideas for using your scraps.
***This post contains affiliate links. I appreciate the support.