The weather here has been sunny and warm so not a lot of sewing happened this week. I did make a bit of progress on a couple of scrap quilts however.
I made my three dark green RSC blocks for my rail fence variation quilt.
I don't really like how these blocks turned out...
But once they get placed with the other colors, they look just fine. I think it is just my aversion to green that brings out my dislike. I think this quilt just needs some yellow pink and purple.
I also made some progress on my 3" leader/ender 9 patches. I think to date I have made about 100 blocks. I have a LONGGGG way to go!
I realized I need to come up with another Rainbow Scrap Challenge block. I am ready to just finish up my string quilt this month so I am down to just two designs. I have an abundance of strings in my scraps so I am thinking about a log cabin design. Maybe I will find time to play with a design later on this month.
I hope you share what you have been working on!
*********************************************
It is now your turn to share what you are making with scraps. Here are the details for linking up:
This linky party is for any scrappy project - It can be in-process or a finished piece.

You can link up your blog post (not your homepage please) or Instagram photo from the past week that features your use of scraps.

If you are linking to a blog post, I ask that you link back to my blog somewhere in your post. So if you are writing about scraps, just get into the habit of including a link as there will be a linky party available every week!

If you are using Instagram, please use the hashtag #ohscrap.

This is a party so remember to socialize and comment on the posts of others.

Following my blog is not necessary but it sure would be great if you do!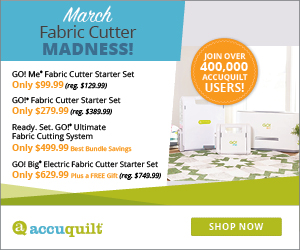 Use code QUBE20 to receive this offer.
Buy One, Get One 20% Off GO! Qube® Mix & Match Blocks, GO! Qube Companion Sets and GO! Qube Specialty Sets (55775, 55776, 55777, 55778, 55783, 55784, 55785, 55786, 55787, 55788, 55789, 55790, 55791, 55797, 55798, 55799). 20% off discount applied to lower priced qualifying item(s) after code is entered. Discounts may be subject to item availability. Offer not valid on custom dies. Offers not valid on previous orders.
Valid from 5/8/20 to 5/21/20 at 11:59 pm CST.