I hope all of you who celebrated, had a wonderful Thanksgiving. I enjoyed a day off with few work responsibilities. I am not a fan of the traditional turkey dinner so I like to stay home and eat foods I only allow myself a couple times a year. It was so nice to just relax!
Today I wanted to share yet another quilt I made using the
Scrap Mixology Bloom pattern
. This layout can be centered on the quilt or done asymmetrically like the quilt I made.
For this quilt, I used one of the block modifications included in the pattern.
I decided to free motion quilt some daisies in a white thread so that it shows up a lot on the royal blue backing.
This quilt measures 48" square. I really love the reds and royal blue colors. They contrast so nicely with the black and white scraps I used.
Hard to believe that this quilt is made from the same block....
...and so is this one!
All of the layouts are shared in the
Bloom pattern
. It is nice to have patterns that you can use multiple times and create different looking quilts.
Enjoy your weekend!
**************************************************
If you decide to take advantage of any Black Friday sales, here are some offerings from my affiliates.
I appreciate the support!
Connecting Threads
is having one of their sitewide sales. Use code
SAVE25
and get 25% off your cart - even on sale items!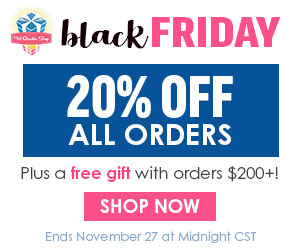 Fat Quarter Shop
is also having a sale on all orders. Lots of opportunity to stock up!
And finally,
AccuQuilt
also has some great Black Friday deals. Maybe it's time to ask Santa for a cutting system or add some new dies to your current collection! I know I love mine :)