Okay, so I didn't do 365 circles but I did sew little circles for over 6 months!
I finally got this one all quilted up and bound. It has been a bit warm still in the evenings so the hand sewing took longer than usual.
It is certainly filled with a lot of fun fabric scraps. A big thanks to
QuiltyFolk f
or thinking up this idea. And kudos to all those who are still making daily squares!
This will be the last month I will be linking up.
I decided to donate this one to a kids' charity so I used some bright novelty fabric on the back.
I wanted this quilt to be very durable so I quilted the entire top with all different sizes of squared spirals. I quilted right over the applique and did all the quilting in a navy colored thread.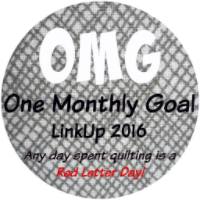 Finishing this quilt was my
July OMG goal
with
Red Letter Quilts
. It is the last Friday of the month so I am just squeaking by!
Linking Up:
Crazy Mom Quilts (Finish it up Friday)
A Quilted Passion
Red Letter Quilts
QuiltyFolk