Once I made the decision to make my Quilty 365 project a lot smaller than originally planned, it did not take me any time at all to sew up the blocks I had pieced so far.
During the month of June, I still hand appliqued 28 circles but rather than sew them into more blocks, I used them to finish out the outer border on the quilt top.
I really do love how the finished flimsy turned out but I am so glad to have this project off my list. It really became a chore to try and sew a circle each day.
I guess I need to change the name of the quilt from Quilty 365 to Quilty 168!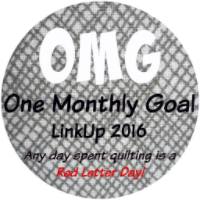 I am going to make quilting and binding this project my
OMG goal for July
. I can see me easily folding this one up and stashing it away. Thank goodness
Heidi at Red Letter Quilts
helps us to stay focused on finishes!
Linking Up:
Confessions of a Fabric Addict (Can I get a Whoop! Whoop!)
Crazy Mom Quilts (Finish it up Friday)
A Quilted Passion
Quilty Folk (Quilty 365)
Red Letter Quilts (OMG Goal)