I seem to have finally gotten over my impulsive quilt starting phase and am now feeling motivated to finish up some projects. So that means a lot of my design walls are empty right now. So I spent a bit of time moving around some blocks on my design walls.
I thought I would share some photos.
In my sewing room, I have all of the blocks completed for this Kaffe quilt finished. I just need to work on the final layout and sew it up.
On the other wall, is the RSC color block quilt. I was hoping to finish up the last two blocks last night and start sewing the top together, but I was easily pulled away to go have dinner with friends.
Isn't that perfect timing!
In my quilting studio, I have this RSC project up. I am not very excited about this one but am not quite ready to give up on it. If I have to stare at it as I quilt, maybe I will come up with some layout ideas. Right now, I am ready to hand them off to someone else!
I also put up the blocks for this little quilt I made from some gifted leftovers. I need to ponder what the next steps are and decide on a background fabric.
And then there are these RSC garlic knots. This project will be continuing on into next year, so there will not be any progress on it until 2020.
So I might be starting two or three new RSC blocks for next year.
I need to start thinking about what designs I want to make!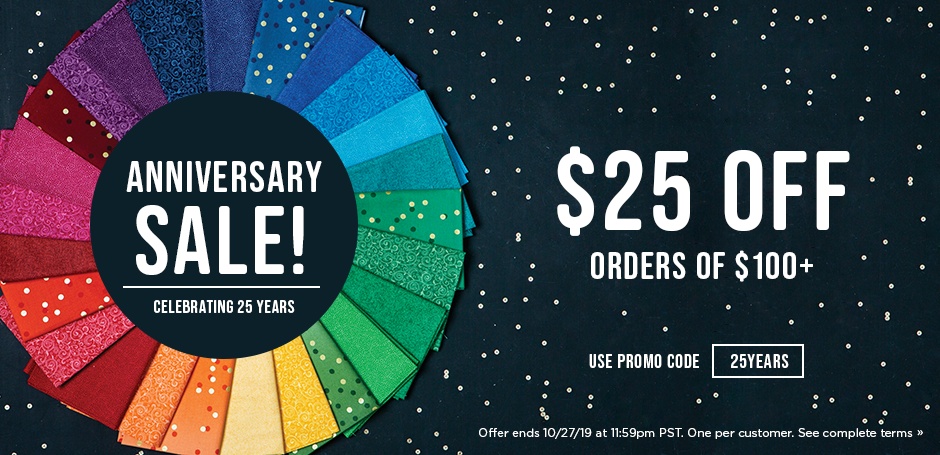 Connecting Threads Anniversary Sale.
***This post contains affiliate links. I apreciate the support!