Here we are at the beginning of December and ready to start the 12th
Scrap-A-Palooza
quilt for the year. That is a whole lot of scraps going into quilts. So why oh why are all my scrap bins still overflowing!?! Thanks goodness I love putting all those fabric bits into fun useful quilts!
I have been eying some leftover fabrics that have been in the scrap bin for quite some time. The big floral pieces are the outer backing trimming from a
purple string quilt
I made in 2013. And I have made two quilts from the geometric fabrics (
Star Surround
and
Double Crossed
) so I am ready to sew up the last of those fabrics.
I really like how these look together so I am going with the two birds, one stone concept and using them up in one scrap quilt.
Becasue the floral pieces came from the sides of a backing, they are nice and long. With the big, bold scale of the print, I really hate to cut it up into smaller pieces. So my plans are to keep it pretty much intact and design the rest of the quilt around it..
Just what am I making this month? I am going to sew up a stacked coin quilt. Rather than use a solid background, I am going to use those long fabric pieces. The geometric fabrics, I will just cut up and use as some of the coins.
I will be needing a lot more scraps so I used the colors in the floral fabric to pull complementary scraps from the scrap bin. I have lots of pinks, golds, blacks, dark oranges and a few greens. I also grabbed my big purple scrap bin as I am going to need a number of purple scraps.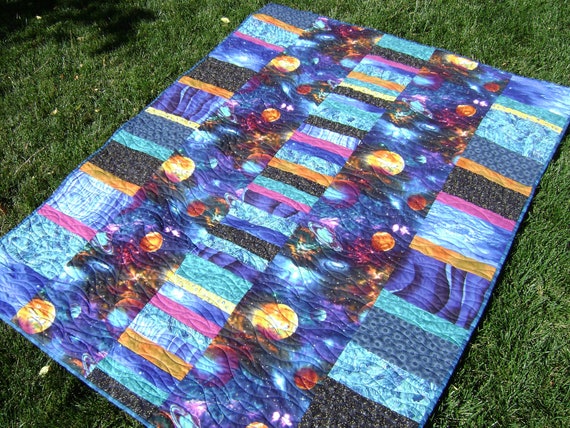 To give you an idea of what I am thinking, here is a quilt I made using some planet fabric and various scraps I made a couple of years ago. As you can see, I kept all of the pieces fairly large on this one.
So check your scrap bins and fabric stashes. I will be back next week to go through the process of how I determine how to cut and design my quilt with the scraps I have.
Hope to see you then!
Linking up: