Here it is. The Fastest. Quilt. Ever.
I have turned that little pile of larger scraps into this fun raw edged circle quilt.
And I thought I would share a tutorial on how I did it.
Because I was cutting up some scrap pieces, I ended up cutting quarter circles. I used one of my 10" longarm rulers but a plate or other circle template works fine too. If you have really big scraps, you can cut full circles and quarter them later.
You really don't need them to be perfect.
Next, simply pin them to a corner of your background fabric. I cut my background squares to 7".
I then top stitched the quarter circle 1/4" from the edge to the background square. I did back stitch at the beginning and the end (which will be hidden in the seam allowance when you sew up the blocks).
I also shortened my stitch length a bit.
I prepared and chain pieced all of my blocks at once.
In minutes I had all of my blocks sewn.
Then it was just a matter of laying out the blocks and sewing up the quilt top. For my backgrounds, I used up a leftover piece of light gray solid and some white Kona from my stash. I love these two toned backgrounds and the irregular placement of the color. I think it adds to the whimsy!
Because the circles are raw edged, the edges of the circles will fray a bit with each washing.
Here are a couple past quilts I have made using this process. You can play around with the placement and the circle sizes!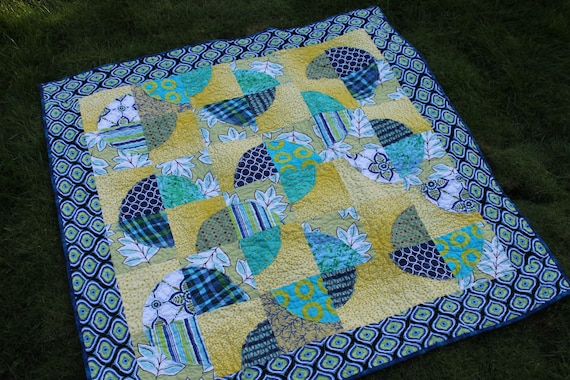 Hurray, I am back in the saddle and keeping focused on a few finishes thanks to
BitterSweet Designs
! I look forward to seeing what others accomplish toward their
June goal
at the end of the month.
And for all you bargain shoppers,
Craftsy
is having a
Summer Steals Sale
this weekend on their fabric and kits. I know I will be picking up some quilt backings, Kona solids and a few precuts at some really great prices. Quilters do love a bargain!