I felt like I could finally clean up some in my sewing room having finished my placemat project. There were little piles of scraps and fabric all over the place.
I found a stack of fabric that I wanted to bag up for another day. I pulled out "the drawer I never talk about" to stuff it in there and was drawn to a few other bags that had some interesting colors.
I refrained and stuffed it back in the drawer and proceeded to sit and sew. One thing I can say about the placemat project is that it has been a great leader/ender project.
As I was sewing, I really felt like I needed one...
I decided to just use all those odd shaped triangles I saw in one of those bags together. I figured I could sew them up and just put them in the spare parts box. No harm...and not a new project!
After all, 2022 is the year to finish UFOs. And I really want to end the year with a low number.
I, of course, quickly sewed all the triangles up and then decided to add a few small scraps to them. Just some simple mindless sewing.
One thing I love about just sewing bits of color together is that it can build confidence in color choices. I pondered how these colors would look with a touch of red. So I can easily say I am just learning new color combinations at this point. Still not a project...Right?!?
However, I might need your help to explain how all these pieces up on my design wall are not a new project. At what point do I have to put it on my list? 😂
What scrappy projects are you working on?
*********************************************
It is now your turn to share what you are making with scraps. Here are the details for linking up:
This linky party is for any scrappy project - It can be in-process or a finished piece.

You can link up your blog post (not your homepage please) or Instagram photo from the past week that features your use of scraps.

If you are linking to a blog post, I ask that you link back to my blog somewhere in your post. So if you are writing about scraps, just get into the habit of including a link as there will be a linky party available every week!

If you are using Instagram, please use the hashtag #ohscrap.

This is a party so remember to socialize and comment on the posts of others.

Following my blog is not necessary but it sure would be great if you do!
Follow Me on Bloglovin' Follow Me on Feedly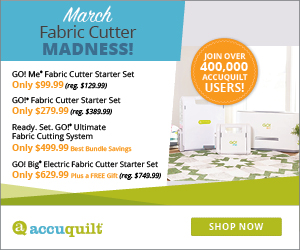 Just a few days left to take advantage of the deals going on at AccuQuilt.